Hi, my name is Keith and before becoming a forex trader, YouTuber & blogger, I was a freelancer in web design. Over the past 5 to 6 years ago, I have made a lot of mistakes and I have as well learned a lot from them. Therefore, I wouldn't want you to make the same mistakes that I did since I learned everything the hard way.
Among all the money-making opportunities have tried in past years such as YouTubing, blogging, freelancing, affiliate marketing, dropshipping, and drop service, I can confidently say that Forex trading is the best among all.
Why is forex trading better than all these other money-making sources?
With forex trading, you don't need to look for customers. You make the money all alone on your own.
With forex trading, all you need is a computer connected to the internet, there is nothing like having to meet in person with other people to buy and sell currencies.
If you run a physical business, you might have noticed the challenges such as being quarantined, fear of catching the virus when meeting customers, cost of transport and other expenses. But as I said earlier on, with forex trading, All these problems are not there.
With forex trading, you don't need to recruit people. Forex trading is not a pyramid scheme.
With forex trading, you don't pay any fees at all, except the money you actually deposit to trade with.
The list is endless when it comes to forex trading being the best. Above are some of the most common reasons according to my experience.
Some forex misconceptions you should be aware of
Forex trading is not a get-rich-quick scheme. Yes, it is possible to double or triple any amount within hours and also lose it within hours. This type of trading is known as aggressive trading and that's just luck nothing else and it does not work in the long run.
Forex is a scam? – Forex is not a scam. It is stupid to call forex a scam because it is like you are calling "water" a scam. What makes forex a scam is the people who claim to be account managers that can multiply money from $100 to $10,000 in 24 hours and also those who sell courses or strategies or robots claiming to be able to make you thousands of dollars every day and so on.
I am sure you know all that, I just wanted to clear some stuff for you in case you are a complete beginner at trading. Over the past years, I have moved from trading currencies to trading synthetic indices from Deriv. so what is this page about?
Are you looking for a way to make money fast and easily?
As I have mentioned earlier on, Forex trading is the best if you would like to make money from the comfort of your bedroom. But forex trading is not that easy and straight forward and if it was, no one would have been having a 9 to 5 job.
Is forex trading really hard?
Everything in life is hard, just passing my grade 12 exam was very hard, the countless hours of studying and all the hardships in life. The good part of forex trading is that, even if it may seem hard and depressing, it is something that can reward you. I am sure you have seen people flashing off their cars, money, and iPhones gotten from forex trading. Don't you admire such?
Well, I hope too, that there will be a time when I will be able to show off things bought using forex profits for motivational purposes only but again I hate showing off and it's not everyone who can be happy and can really just get unnecessary attention.
Enough with the talking, Forex trading may be hard but it is very rewarding. In the same way, you were able to dedicate years to finish your grade 12, and also 4 years dedicated to getting that degree is the same way you should be able dedicate yourself to finally be able to make consistent profits. I don't mean you should stop school and focus on trading. What I mean is that you should be patient enough just as you have waited 12 years and 4 years. 2 to 4 months of practicing is not enough. If you go on YouTube and watch some success stories, you will find that it took 1 to 7 years or more for traders to finally be able to make consistent profits. No matter how long it takes, just don't give up.
What if you need to make some money fast
I understand you may be having some financial problems and might not have the years to keep on practicing for you to become profitable and would like to make some quick profits to sort out a few problems.
How to get started?
Well, then the first step you will need to do is sign up for a trading account on deriv and learn some basics on trading. My YouTube channel would be a great place to start with. I have 200+ videos on forex.
Once you understand the basics of trading such as connecting your MT5 account to deriv on laptop and phone, adding indicators to charts, opening and closing trades, modifying trades by entering stop loss and take profits and so on, then it can be high time for you to start making some real money as are you learning more on advanced trading. To learn more advanced stuff, here is the list of courses you could buy (not affiliated) you could buy. I can guide you on where to start from and where to go at fee but I may not be your mentor and I may not teach you everything as I am still learning too although have been trading for years hahaha.
How to make consistent profits trading forex as a beginner
So this is where I come in to help. If you would like to make some money fast as you are learning or need to sort out a few things, this is where my Deriv ripper indicator can help.
So what is Deriv ripper?
Deriv Ripper is a new indicator that will assist you in deciding whether to go long or short. It has a low lag and a high level of accuracy. This straightforward indicator is ideal for traders who prefer to keep things simple and dislike complex indicators that repaint a lot. Deriv ripper shows green arrows telling you to buy and red arrows telling to sell. You simply enter your stoploss below the green arrow and above the red arrow and take profit according to your "risk to reward ration".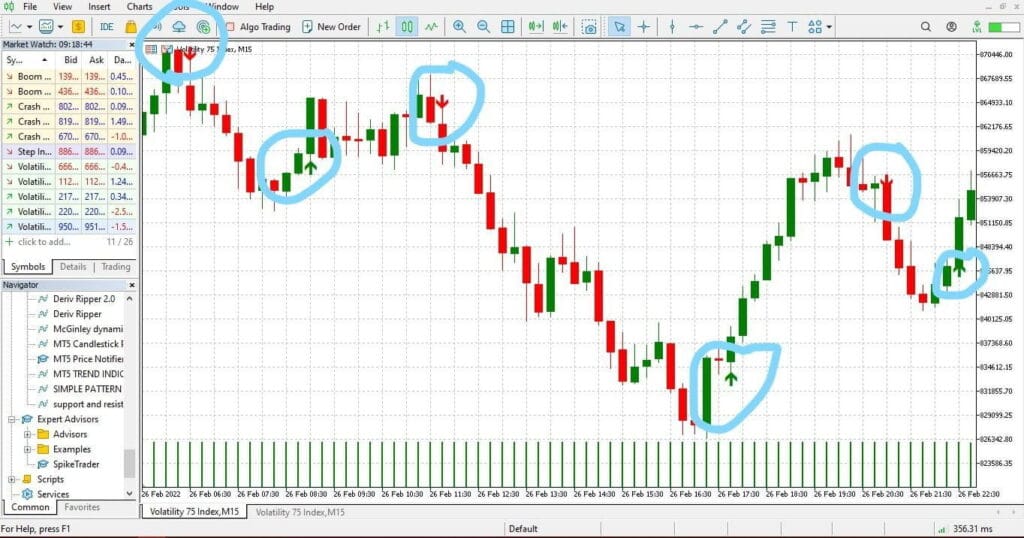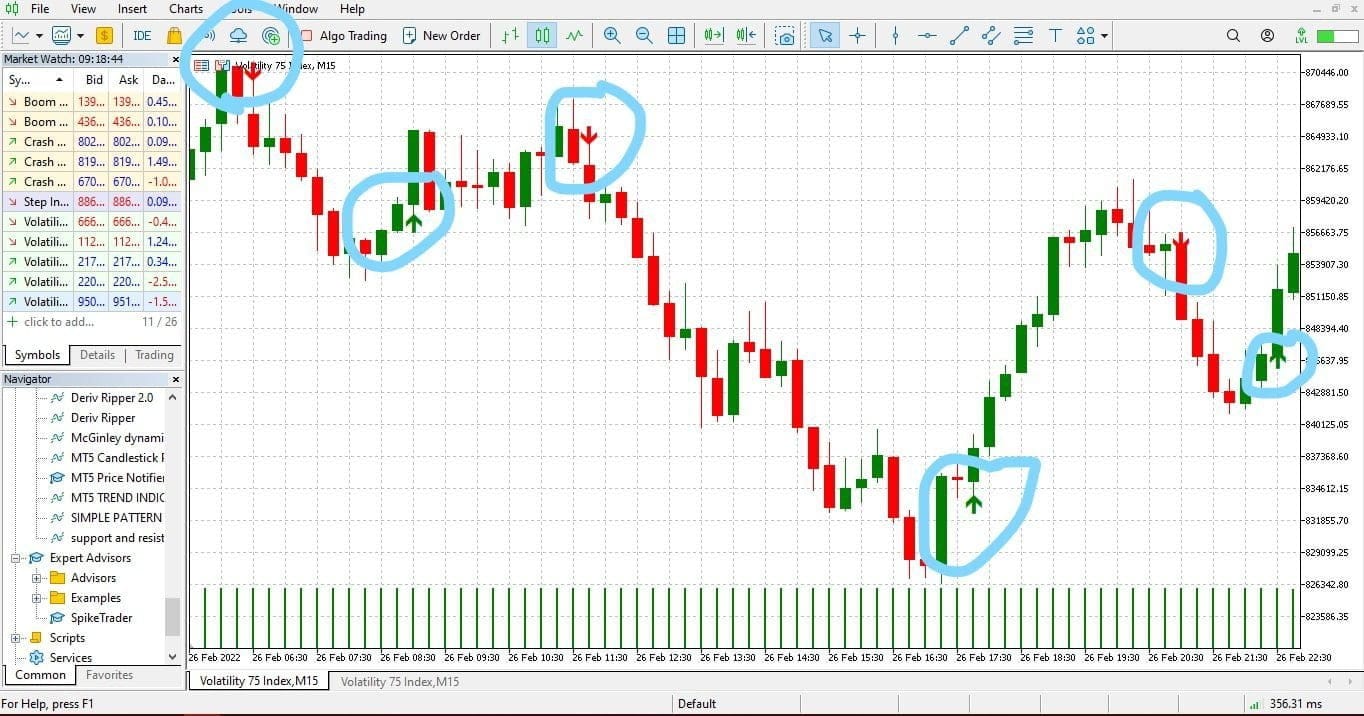 Features of Deriv ripper
1. No contradicting signals, version 1 was sending a lot of buy and sell signals in a sideway trend. Version has improved with less signals which are not repainting and are reliable.
2. Waiting for arrows can be so boring and less pleasant. well, in version 2, the indicator will alert you via sound and pop up alert notifying you of a new signal.
3. The indicator will as well, send push notifications signals to your android or iphone.
4. The notifications tell you what to do. New updates are coming soon.
Deriv ripper 2.0
How to use Deriv ripper:
Here is a 17 minute video that was made for version 1 of the indicator. But you may use it for version 2.
How to buy Deriv Ripper
Simply click on the botton below or click here to buy.
FAQ ON DERIV RIPPER
Other Resources you maybe interested in:
Download my other forex tools for free http://keithrainz.me/shop/
Subscribe to my email list: http://keithrainz.me/email/
Subscribe to my YouTube channel for Deriv strategies: https://www.youtube.com/channel/UCeOgeWyhtXiihXOR7LOCxiw
Follow me on Instagram for forex memes: https://instagram.com/keith.rainz
My new blog posts : http://keithrainz.me/blog/
My Telegram channel: https://t.me/keithrainz
Chat with 4000+ people from all over the word in my Telegram chat group: https://t.me/fxkeith