What if you had 1 indicator you could use and rely on to trade all indices? well, introducing Deriv Ripper. Deriv Ripper is a new indicator that will assist you in deciding whether to go long or short. It has a low lag and a high level of accuracy. This straightforward indicator is ideal for traders who prefer to keep things simple and dislike complex indicators that repaint a lot.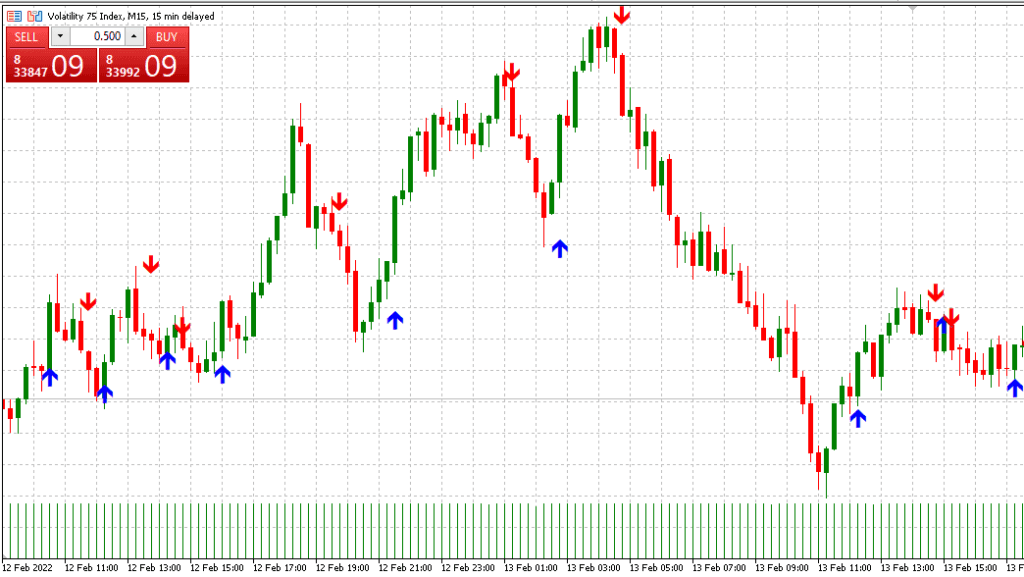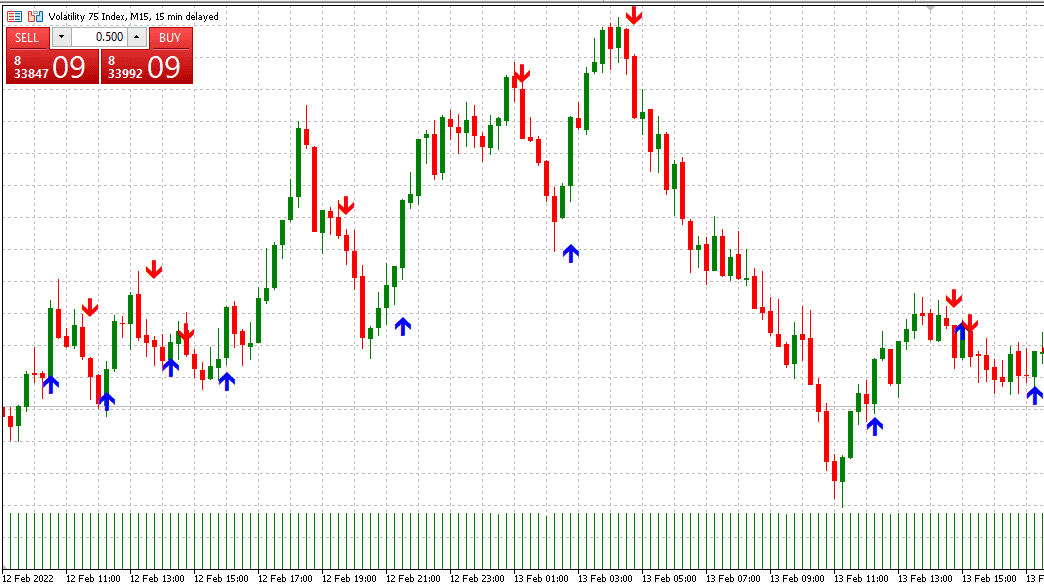 As you can see, this indicator provides clear buy (blue arrow pointing up) and sell (red arrow pointing down) signals (red arrow pointing down). You should be aware that if the indicator contradicts the existing general trend, you should not enter the trade. If the chart is in an uptrend and you see a blue arrow, go long; if you see a red arrow, do nothing (just close your long position if you have one open); if the chart is in a downtrend and you see a blue arrow, close your short position but don't go long; if you see a red arrow, go short; if the chart is sideways and you see a blue or red arrow, go long or short. Setting your stop-loss at the level where the arrow is drawn (displayed if you point your cursor at it) is a good idea.
FAQ
Does this indicator repaint? NO.
Is there a free trial? no, this is the first version and you don't need a license for it to work. Future updates will require a license for it to work. So this is the best time to buy this one.
Where can i use it? This indicator works on MT5 only and you can use it to trade Boom and crash and other synthetic indices from deriv or other brokers.
Can I request for a refund? currently no. You can't request for a refund because it does not require a license for it work, unless for future updates where I will be able to disable your license after requesting for a refund.
Need more help using it if you need more help, I suggest you to first watch the video till the end. You can as well comment on this post or youtube video to contact me directly on Telegram (@keithzm) or email.
Short video about this indicator
How to use the indicator
I have a 17min tutorial video on YouTube on how you can use this indicator. You will learn the following:
– What deriv ripper is
– how it works
– some basic price action
– when to enter, stop loss and take profit levels
– when to go short or long
– how to avoid unnecessary losses
– finally testing the indicator if it repaints.
ForexTime Ripper
This indicator comes with a free MT4 version called Forex time ripper. ForexTime Ripper is simply the MT4 version of Deriv ripper indicator for MT5. I simply just converted it to MT4. If you already bought the MT5 version, you don't need to pay for this, simply go to downloads page. If this is your first time, you will receive both versions at same fee.
Deriv Ripper 2.0
What's new in the update?
1. No contradicting signals, version 1 was sending a lot of buy and sell signals in a sideway trend. Version has improved with less signals which are not repainting and are reliable. 2. Waiting for arrows can be so boring and less pleasant. well, in version
2, the indicator will alert you via sound and pop up alert notifying you of a new signal.
3. The indicator will as well, send push notifications signals to your android or iphone.
4. The notifications tell you what to do. New updates are coming soon.