I have used a lot of forex trading brokers in the past but I have only continued to stick to Deriv since 3 years ago. In this article, I will be reviewing Deriv based on my experience within these past 3 years. Deriv.com, formerly known as Binary.com, was created in 1999 by Binary Group, a well-known company in the binary options trading industry. Traders will be able to trade on Binary.com during the transition. However, because Binary.com is being phased down, traders may benefit from switching to Deriv.com.
So what is Deriv?
Binary.com has rebranded itself as Deriv. The platform now offers a wider choice of products, a better user experience, and a slick new logo.
Binary.com's approximately one million customers, who are responsible for 43 million monthly transactions and $6 million in monthly withdrawals, will gradually transfer to Deriv.com.
Is Deriv regulated? Is Deriv a Scam broker?
Well, Deriv (as Binary) was launched before I was even born and it has continued to exist. When it comes to choosing brokers, it is recommended to choose brokers that have been in the business for a long time unlike choosing new brokers that disappear. Establishing which governing agencies are watchdogs over a broker's conduct is one of the finest benchmarks for measuring the safety of a broker like Deriv. Deriv is regulated by the Malta Financial Services Authority in the EU (FSA). The broker is licensed with the Vanuatu Financial Services Commission (FSC) and the British Virgin Islands Financial Services Commission for traders outside of the EU (FSA). Deriv.com is also governed by the Labuan Financial Services Authority in Malaysia (FSA).
Account Creation on Deriv
Creating an account on Deriv is free and fast. Simply click on this link and begin your account creation and follow the given steps. When you create an account, you will be presented with Deriv's DTrader home page when you can trade Binary options. From there, you can open a demo MT5 account known as DMT5. To create a real account, you will need to fill in more information about your self and you will not be required to upload your proof of ID there and then. But you will be asked later.
How to create an account on Deriv.com
Try to watch this video below.
Deriv's DMT5 Accounts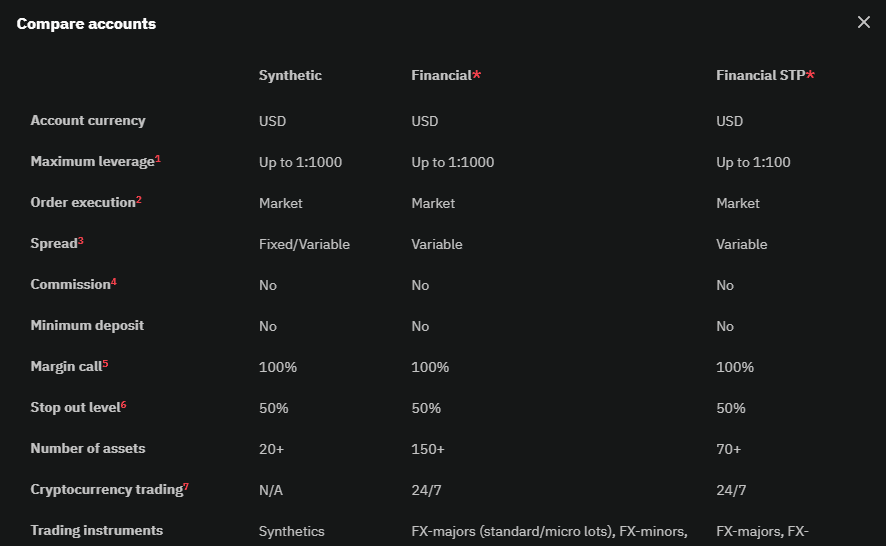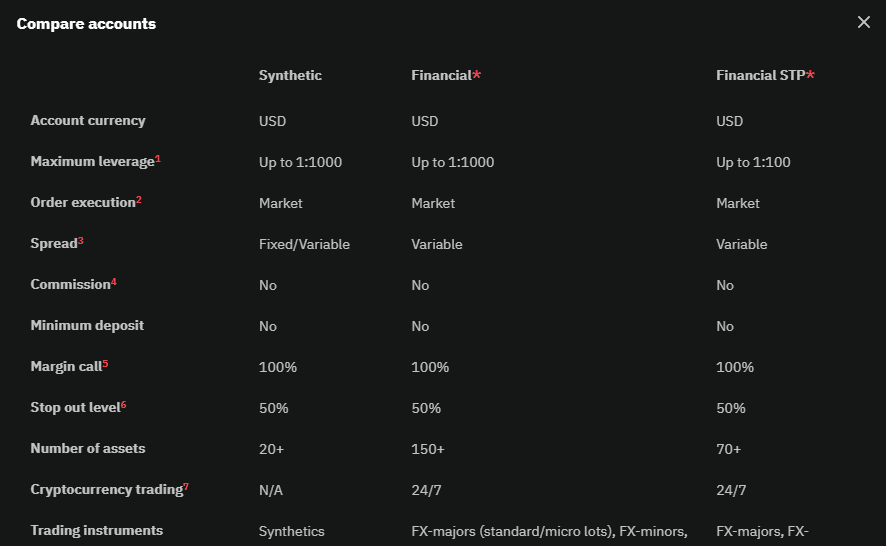 With Deriv, you can as well create different crypto accounts, deposit and withdraw via payment agents, ewallets, direct to Visa Card, and P2P.
Deriv Deposits
Deriv's deposits are free and instant except for crypto deposits where you need to wait for some minutes. You can deposit into Deriv by using any of Deriv's 50+ Deposit methods.
Deriv withdrawals
Gone are the days where you had to wait for 3 days up to a week just to receive your money from a forex broker. If you withdraw your money from Deriv in the morning on a working day, it is possible to receive the money within 2 hours or later during the same day. If it takes long, then it is the following day. Withdrawals have been faster on Deriv.
Deriv fees
The fee is determined by a variety of criteria, including spread and margins, and Deriv clients may be subject to varying price structures depending on their nation of residency.
A currency pair's spread is the difference between the bid and ask rates. A pip is the lowest unit of change that an exchange rate can make.
The amount of money necessary in your account to open a position is known as margin. The current price of the base currency against the US dollar, the size (volume) of the position, and the leverage applied to your trading account are used to compute margin.
Deriv has low trading fees and tight spreads.
Deriv does not list any fees for withdrawals or deposits on their website.
Accounts that have been inactive for 12 months may be charged a dormant fee.
The commission is just for crypto-currencies, according to Deriv, however the amount is not specified on their website.
Deriv's Trading platforms
Deriv's forex trading platform is essentially the software that its clients use to execute their trades. Some brokers offer only one platform, while others offer several.
Clients can trade forex as well as other asset classes on a multi-asset trading platform. The platform a client chooses is usually determined by the type of trading they want to do.
Along with Binary.com's SmartTrader system, Deriv offers three trading platforms.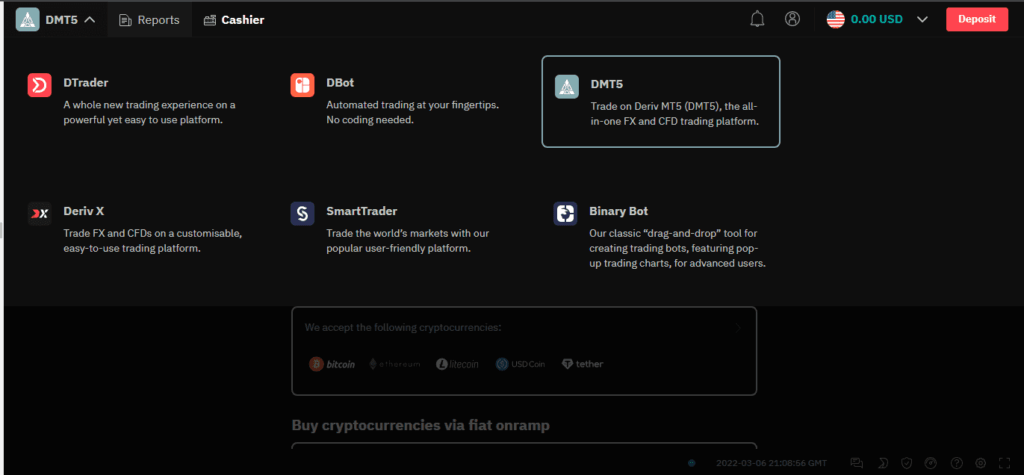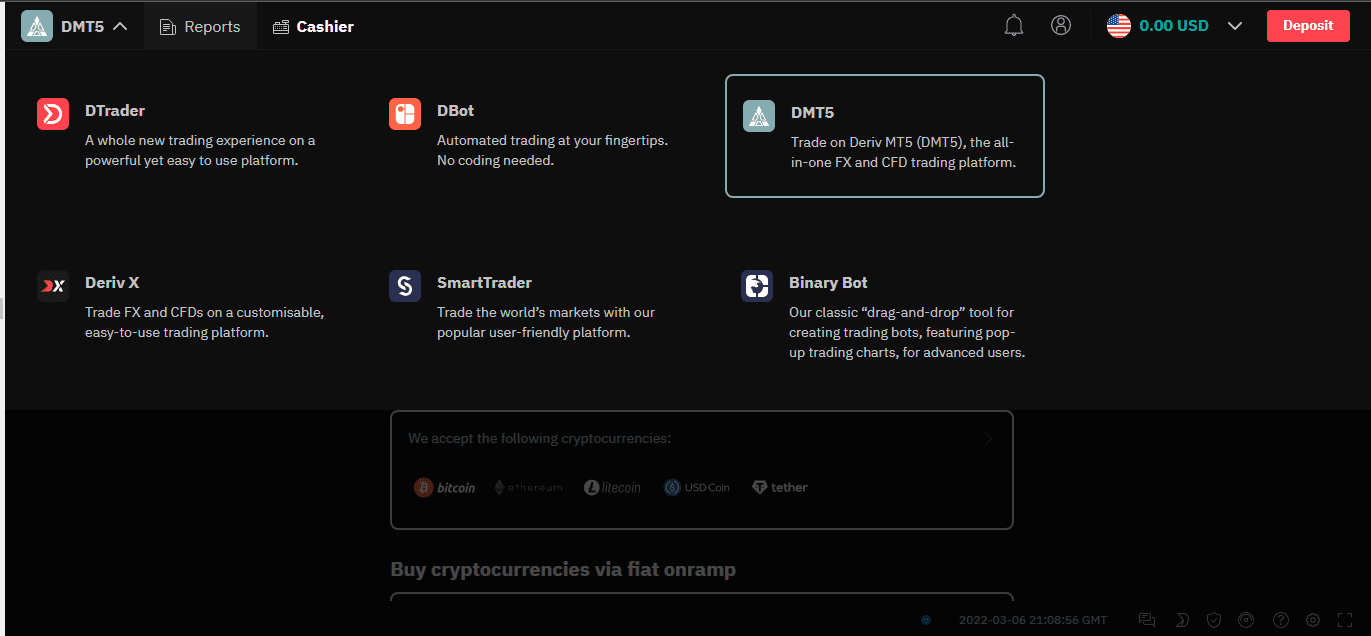 How to contact Deriv
I usually contact Deriv support team via their live support button which is found at the bottom right corner.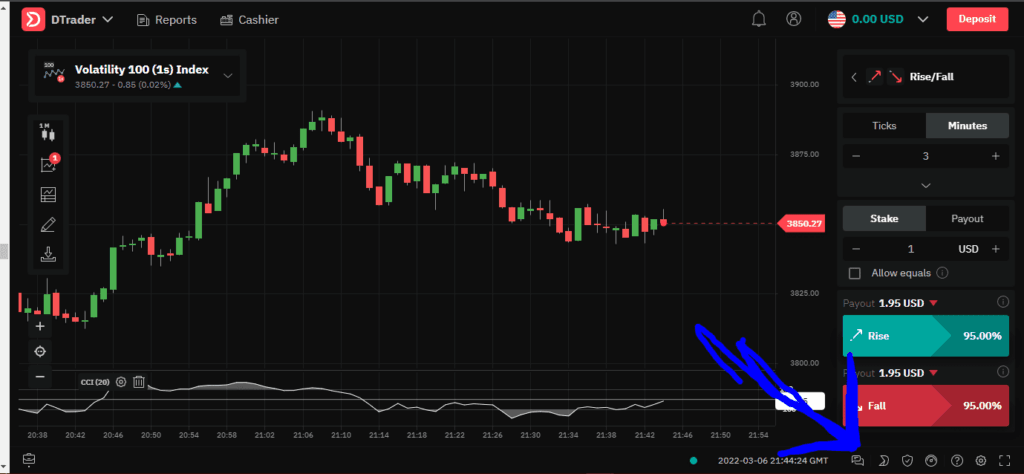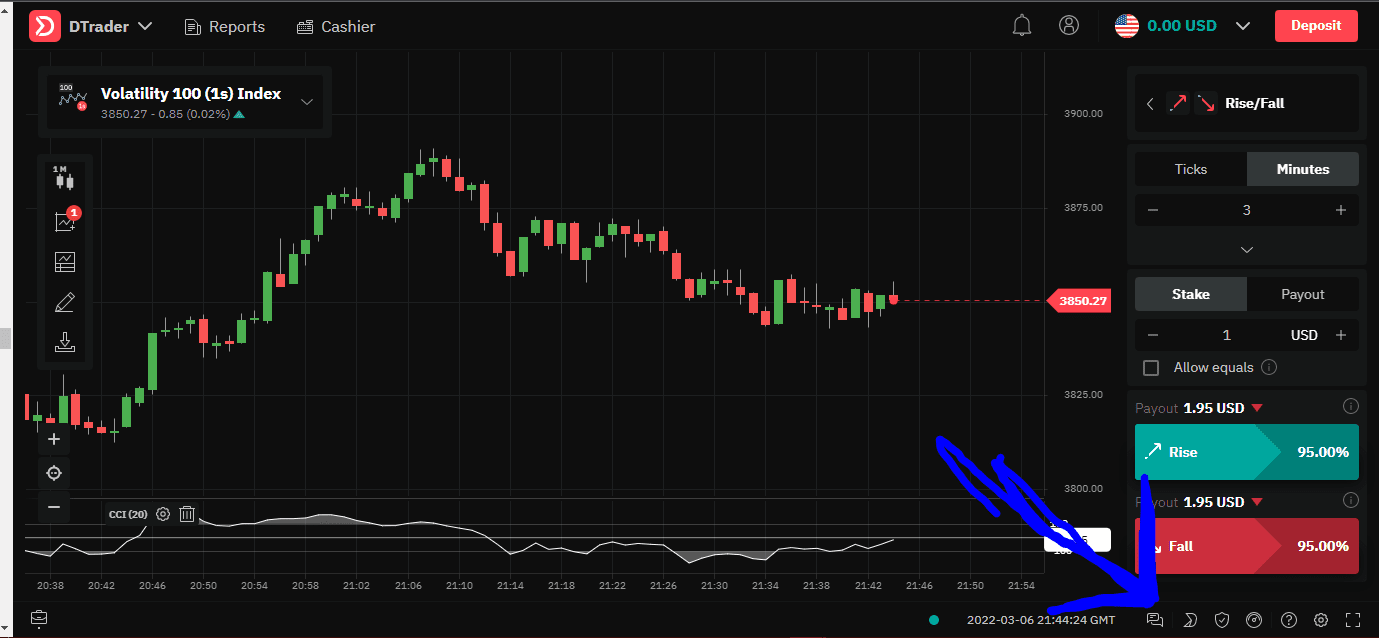 What is Deriv's minimum deposit and withdraw amount?
The minimum amount you can deposit on Deriv is $5 and the minimum amount happens to be $10. But with other payment methods, it is possible to withdraw an amount less than $10.
Deriv deposit and withdraw payment methods
Here are some of the payment methods you could use to deposit and withdraw from Deriv. Remember you can as well withdraw via P2P or payment agents.
Debit cards
Credit cards
Skrill
Neteller
FasaPay
Perfect Money
WebMoney
Paysafe
Jeton
SticPay
Various cryptocurrencies
Which Bank in Zambia can I use on Deriv?
I am from Zambia and I get this question almost everyday. Well, I use Standard Chartered Bank and I use my debit visa card to deposit and withdraw. Unlike other brokers that do not allow you to withdraw more than you deposited via card like FXTM. With Deriv, if you deposted $10 and made $500, Deriv will not stop you from withdrawing. And as I said, deposits are instant and free and withdraws are free too and can take 2 hours to upto 2 working business days. So go on and create an account here.
Deriv awards
Traders have more faith in a corporation that has been honored. Deriv has won a number of prizes over the course of its career, including the following:
Global Brands Magazine named it the "Best Trading Platform in Asia."
The Global Brands Awards recognize outstanding performance and service delivery. In the Global Banking & Finance Awards 2018, Binary.com was named 'Best Binary Company Asia Pacific.'
How to make money on Deriv
I have developed an Indicator that gives non-repainting buy and sell signals for all deriv currency pairs and indices. Download it here.
I also have a Telegram channel and group with over 4000 people from all over the world that trade Deriv's indices. https://t.me/keithrainz
Deriv Sign-up bonus
Are you looking for no deposit bonus for Deriv when you create an account? Well, Derive does not have sure to lure people into getting free stuff they can never withdraw. But you can practice in $10,000 free demo account here.
Conclusion
To be honest, I have not experienced anything negative with Deriv for the past 3 years and I don't think I am ever going to leave Deriv for another broker unless it no longer works in my country. I mainly trade synthetic indices which can never be found in any broker in the world. On Deriv, you can trade everything from binary options, currency pairs, cryptocurrencies, stocks, indices such as Nasdaq and also it's computer generated indices known as synthetic indices.
If you have experienced something negative or want to share your experience with Deriv, feel free to comment below.