DOGE is a cryptocurrency that every crypto investor has heard of. It is actually owned by hundreds of thousands of people, including celebrities like Elon Musk. However, not everyone is aware that DOGE has a child, BabyDoge, who has the potential to outperform its father. Because BabyDoge's popularity is rapidly growing, it is now more important than ever to become acquainted with the project for those who have not yet done so. Learn more about Baby Doge Coin and how to receive payments in BabyDoge by reading this article. BabyDoge is a strong mem coin with a clear goal.
Binance Smart Chain is home to BabyDoge.
What is BabyDoge?
BabyDoge, unlike DOGE, is a newer member to the family of mem-inspired coins. Baby Doge Coin, in particular, was released in June 2021. Despite this, Baby Doge has one of the fastest-growing crypto communities. The quantity of tweets about Baby Doge on Twitter demonstrates this. Furthermore, during the first 21 days of its launch, Baby Doge Coin surpassed 100k holders, demonstrating how fantastic the idea is and how many people believe in it. Bay Doge, unlike many other meme cryptocurrencies, has a true purpose. Baby Doge aims to make cryptocurrency more accessible to the general public while simultaneously assisting in the rescue of canines in need. Baby Doge uses prizes, NFTS, decentralized exchanges, and credit cards for crypto payments in order to promote mainstream adoption of crypto.
Baby Doge is based on Binance Smart Chain, one of the most advanced networks that utilizes cutting-edge technology. While DOGE runs on its own blockchain, Baby Doge is built on Binance Smart Chain, one of the most advanced networks that uses cutting-edge technology. BSC provides a number of distinct advantages over similar networks, such as Ethereum. BSC was chosen by the Baby Doge Coin developers because of its incredibly quick 5-second block intervals and lower gas rates than the Ethereum network.
Because Baby Doge Coin is modeled like DOGE, it has adopted several of its father's characteristics. Baby Doge is a cryptocurrency that was created by the same Doge Meme online community's fans. Baby Doge is attempting to impress his father by demonstrating faster transaction times. Baby Doge is a hyper-deflationary asset with static reflection, meaning that all holders reap the benefits. Every Baby Doge transaction, in essence, adds fresh coins to the holders' wallets.
Baby Doge Swap
Baby Doge was one of the first meme ventures to use a decentralized exchange. Basically, consumers can exchange their coins by visiting the coin's official website. This is particularly advantageous for investors because it allows them to skip traditional exchanges while still having access to BabyDoge liquidity.
Baby Doge Card Pay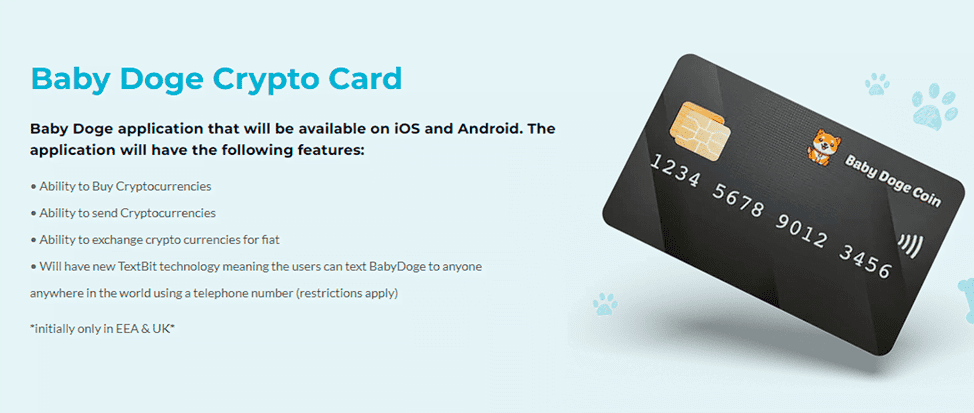 Baby Doge is also one of the first meme coins to accept crypto payments via credit card. Anyone interested in utilizing a BabyDoge-powered credit card can do so by visiting the project's official website.
Baby Doge Paw Wallet
It's difficult to fathom any reputable cryptocurrency project not having its own wallet. Users' anonymity is protected, and their cash are safe and secure, thanks to the proprietary wallet. Baby Doge intends to release its own Paw Wallet, which will allow users to keep track of their reflection awards, wallet balance, currency valuation, and more.
Baby Doge NFTs
NFTs are all the rage right now, so it would be odd if Baby Doge chose to disregard them. This is why the Baby Doge NFT marketplace is the largest project currently in development by the Baby Doge team. Users will be able to manufacture, buy, and sell their own NFTs on the site, and they will be able to give a percentage of their earnings to help preserve dogs. Users will be able to obtain NFTs and sell them for real money while also assisting pets. It appears to be a win-win situation for all parties involved.
What are the benefits of BabyDoge?
Transparency
Baby Doge is a decentralized project that relies on the contributions of its supporters. As a result, Baby Doge promotes open communication and values openness and trust.
Community
As previously stated, Baby Doge has one of the most rapidly developing and well-liked communities in the cryptocurrency market. Baby Doge stakeholders, according to the project's team, can only be strong if they work together. Baby Doge aspires to involve people from all over the world in his community. Our worldwide communities are served by various Telegram channels dedicated to the project. Baby Doge is essentially owned by its vibrant, fun community, which welcomes and supports diverse viewpoints in order to make Baby Doge the greatest crypto community with a do-good objective of rescuing puppies in need.
Trust is the Baby Doge community's lifeblood. This means that not only in the community and development, but also in security efforts, the project adheres to the idea of complete openness. A third party audited Baby Doge, and the majority of the LP tokens were burnt and locked. As a result, there are no rug pulls on Baby Doge.
Longevity
Baby Doge, unlike other of the meme coins, is here to stay. The project's decentralized community is encouraging and implementing long-term ecosystem and foundation development. The community's efforts are focused on generating real-world use cases. As a result, Baby Doge has a bright future ahead of it.
Tokenomics by BabyDoge
Binance Smart Chain is used by Baby Doge, as previously stated. BSC was created as a way to use solidity-based smart contracts at a considerably faster and more efficient rate than other blockchains, including Ethereum. Decentralized exchanges based on BSC provide lightning-fast swaps and extremely minimal fees. As a result, BSC has become one of the most extensively utilized Decentralized Finance blockchains (Defi). Because Baby Doge is on BSC, the BabyDoge Coin is a BEP-20 token, which is based on the BinanceTeam's token protocol. Baby Doge has a 5-second block speed, which is significantly faster than DOGE's 1-minute block pace, thanks to BSC technology.
Baby Doge Coin benefits from Binance Smart Chain's incredible speed as well as its great security and safety for both users and developers. BSC's inherent dual chain interoperability enables cross-chain communication and scaling of high-performance dApps that demand a quick and pleasant user experience.
In terms of tokenomics, Baby Doge makes use of three simple yet effective functions: reflection, LP acquisition, and burn. A ten percent fee is applied to each transaction, which is split two ways. To begin with, the 5% fee is dispersed to all existing holders. You will receive your prizes as long as you have Baby Doge in your wallet.
The 5% charge is shared 50/50. The contract sells half of the BABY DOGE tokens into BNB, while the other half is automatically paired with the previously specified BNB and added as a liquidity pair on Pancake Swap.
So far, the project has consumed more than 30% of the total supply. As a result, every transaction burns 30 percent or more of the 5% redistributions.
Is BabyDoge a good investment?
Many people in the crypto sector don't think meme projects are worth their time, and as a result, they miss out on the countless potential that coins like Baby Doge provide. Consider the case of DOGE, which has experienced tremendous growth since its inception. Meme coins have proven time and time again that they have the ability to break records and attract hundreds of millions of dollars in investment. Baby Doge is a platform that aims to create a full-fledged ecosystem with many initiatives, rather than just a meme coin. Furthermore, Baby Doge is dedicated to assisting canines in need. All of these aspects add to the project's overall value in the eyes of investors. Moreover, despite the fact that Baby Doge has yet to release all of its components, it has already attracted hundreds of thousands of investors, demonstrating that it is well-liked by aficionados. As a result, Baby Doge is an excellent investment for everyone who believes in the project's objective and wants to be a part of it.