Hai, my name is Keith, I am a freelancer in web design and marketing. I would like to share a money making opportunity from Cece Mwape. Please read till the end.
Who is Cece Mwape?
Cece is a young hard working woman determined to do whatever it takes to make sure she makes it the right way.
About the money making opportunity in Zambia
Are you a student in Zambia?, a stay at home mum, or employed or not?. Cece has a money making opportunity for everyone regardless of your profession, what you do or what you are that does not eat up most of your time.
Why is this opportunity suitable for everyone?
You work remotely
You work when ever you want
You pay yourself(you are a boss)
You get paid for products you use in your daily life like tooth paste
You make unlimited amount of money
What is this money making opportunity?
This is
GREENLEAF
What is GreenLeaf?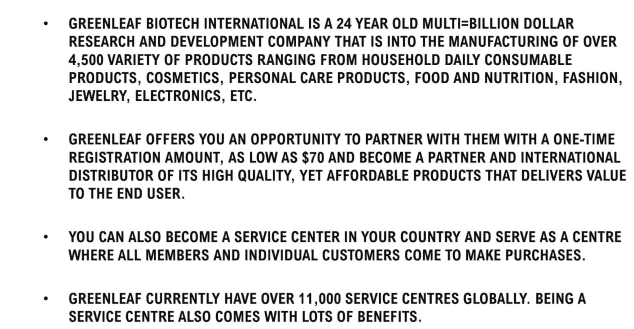 Greenleaf is Looking For Distributors,
Leaders, Business Partners
In Zambia.
Do you have a phone?
Do you buy talk time?
Will you ever stop buying talk time?
If you won't then the network providers will never go broke.
Do you brush your teeth?
Bath everyday?
Are babies born daily?
Do occasions happen daily?
Will babies ever stop being born?
Will you ever stop brushing your teeth or bathing?
If your answer is yes then you're playing with your retirement plan.
That is how Greenleaf works it pays you for things you do daily
Two years down the line you'll never be broke ever again so long as you're consistent.
Problem is we get advice from the wrong people.
Someone who joins and sits won't get paid they'll tell you its hard or its a scam.
Someone who joins and works consistently will tell you it works so as you enquire ask the right questions.
Like how is it hard exactly???
Otherwise switch your brand and earn✔
HOW DO YOU EARN IN GREENLEAF AFTER JOINING THE BUSINESS?
‼‼ COMPENSATION PLAN FOR GREENLEAF VIP MEMBERS ‼‼
There are 8 (eight) ways of earning in Greenleaf. They are:
Return-On-investment Bonus
Group Bonus
Sales Bonus
Vouchers Bonus
Leadership Bonus
Retail Bonus
Welfare Bonus
Star Director Incentives
Because it has very affordable products
As a member you get a voucher 5 times worth the amount you joined with
You earn daily
You earn even on one leg????
No star Director yet meaning the market is not yet saturated.
PVS don't expire even if it takes you 6 months to pair the other leg your sales bonus will be waiting for you.
As long as more than 10 million people brush their teeth and bath using soap, apply lotion and wear clothes, you have plenty of market in Greenleaf.

Greenleaf operates two models. Online purchases and Retail purchases. All these two models are fused into the compensation plan. How does it work. It is very simple.
Here is the PDF of Greenleaf products to learn more
For more information and registration, Contact Cece
Or call or text: 0979851762 (please mention that you got the number from the website or facebook.